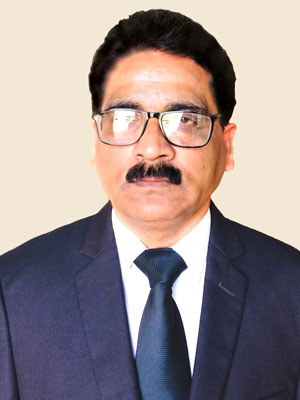 Dr. Abhay Kumar Choubey
Ph.D. (IIT (BHU))
Assistant Professor,Chemistry
Email: achoubey@rgipt.ac.in, choubey.abhaykumar@gmail.com
Phone: +91-535-2704230
Education
Ph.D., Synthetic Organic Chemistry, Indian Institute of Technology (Banaras Hindu University), India
M. Sc., Organic Chemistry, Magadh University, India
B. Sc (Hons.), Chemistry, Magadh University, India
Work Experience
2008 to Present: Assistant Professor, Rajiv Gandhi Institute of Petroleum Technology, Raebareli, India
2004-2008: Faculty, University of Petroleum & Energy Studies, Dehradun, India
2001-2002: Postdoctoral Research Associate, Petroleum Engineering, University of Kansas, Lawrence, USA
1998-2000: Research Associate, Petroleum Engineering, Indian School of Mines, Dhanbad, India
Research Interest
Organic Synthesis, Petrochemistry, Hydrogen fuel, Water shut-off & Enhanced Oil Recovery
Research Guidance
Ph. D. : 01Working (In Petroleum Engineering area)
M. Tech. : 07 Completed
Research Project Handled
One major project on Estimation of Shelf Life of Polymer Based Chemicals for Drilling and Production of Hydrocarbons sponsored by KDMIPE, ONGC Ltd., Dehradun, India.
Seminar/Symposia Organized
A national seminar on Effective Environment Management Through Continual Corrosion Control at University of Petroleum & Energy Studies, Dehradun, India, 2006.
Invited Talk
A talk on Role of Gel for Enhanced Oil Recovery in an International Conference on Polymer Processing (ICPP 2007) at Beijing University of Chemical Technology, Beijing, China, 2007.
Research Publications: 12
Recent Publications:
Materials for Hydrogen Storage, Abhay Kumar Choubey & B Viswanathan, Bulletin of the Catalysis Society of India, Volume no. 13 Issue 1-2 (March-June 2014).

Synthesis of Thiadiazole & Dithiazole Derivatives: A Review, Abhay Kumar Choubey & D N Dhar, LAP Lambert Academic Publishing, Germany, 2013) (ISBN-13: 978-3659338786)