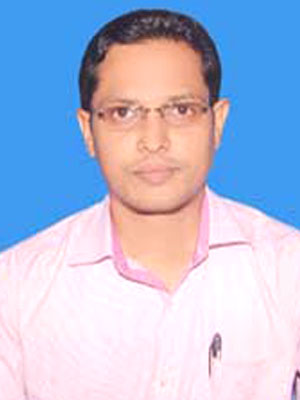 Dr. Saroj Kumar Mishra
Ph.D. (IIT Kanpur)
Assistant Professor (Marketing),
Department of Management Studies, NOIDA
Email: skrmishra@rgipt.ac.in , drsarojmishra@gmail.com
Education
PhD (Marketing), Dept. of Industrial & Management Engineering (IME), IIT Kanpur, India.
MBA (Marketing), Dept. of Business Administration, Sambalpur University, Orissa, India.
BE (Mechanical), Orissa Engineering College/Utkal University, Bhubaneswar, Orissa, India.
ACADEMIC & RESEARCH INTERESTS
1. Marketing Management, Consumer Behaviour, B2B Marketing, Sales & Distribution Management, Marketing Research & Applied Statistics.
ACADEMIC & PROFESSIONAL EXPERIENCE
Tutor, Core Course, 'TA201N: Introduction to Manufacturing Processes', IIT Kanpur [2005-06 (IInd Semester), 2006-07 (Ist Semester), 2007-08 (Ist Semester), 2009-10 (Ist Semester)].
Teaching Assistant, Marketing Management, Marketing Research and Consumer Behaviour Area, IIT Kanpur (August 2004 - November 2011).
Academic Counsellor, IGNOU (M.B.A Program), G. M. College (Autonomous) Study Centre, Sambalpur, Orissa (May 2002-June 2004).
Sales Professional (LASF), L&T Cement, Sambalpur Division, Orissa (October 2003-January 2004).
Lecturer, Srusti Academy of Management, Bhubaneswar (September 2003).
AWARDS & HONORS
Awarded 'National Scholarship' by Govt. of Orissa.
Received 'MHRD Fellowship' from 2004-2009 for pursuing PhD at IIT Kanpur.
PROFESSIONAL AFFILIATIONS
Paper Reviewer: International Academy of Business and Economics (IABE).
PUBLICATIONS/CONFERENCES/WORKSHOPS
Mishra, S. K. and Sharma, N. K., "Relationship between Service Quality, Loyalty and Cross-Buying Intention: Moderating Role of Perceived Risk and Alternative Attractiveness", International Journal of Strategic Management [IJSM] (ISSN: 1555-2411), Volume 10 (1), 2010.
Mishra, S. K. and Sharma, N. K., "Relationship between Service Quality, Loyalty and Cross-Buying Intention: Moderating Role of Perceived Risk and Alternative Attractiveness", IABE-2010 Bangkok Summer Conference, 4-6 June 2010, Bangkok, Thailand.
Participated in the 'Workshop on Entrepreneurial Decision-Making', jointly conducted by Lally School of Management & Technology of Rensselaer Polytechnic Institute (RPI), USA and the SIDBI Innovation & Incubation Center (SIIC) of IIT Kanpur, I9th January 2010, IIT Kanpur.
Mishra, S. K. and Sharma, N. K., "Customers' Service Experience and Cross-Buying Intention in Banking Service Market", IIMB Management Review Doctoral Students Conference 2009, 27th November 2009, IIM Bangalore, India (Selected).
Srivastava, K., Mishra, S. K., Pandey, S., "Organizational Excellence: Total Quality Management", SCMS Journal of Indian Management (ISSN: 0973-3167), Volume V, No IV, October-December 2008.
Pandey, S. and Mishra, S. K., "Drivers of Small Investors' Investment Decision Making" 5th International Conference on 'Indian Capital Market - The Way Ahead', Punjab Commerce And Management Association (Regd.) in collaboration with Punjab School of Management Studies, 25-26 October 2008, Punjabi University, Punjab, India.
Srivastava, K., Mishra, S. K., Pandey, S., "Organizational Excellence in the Third World Context", 3rd National Conference on 'Managing Change for Organizational Excellence', December 1, 2007, GJIMT, Mohali, Chandigarh,