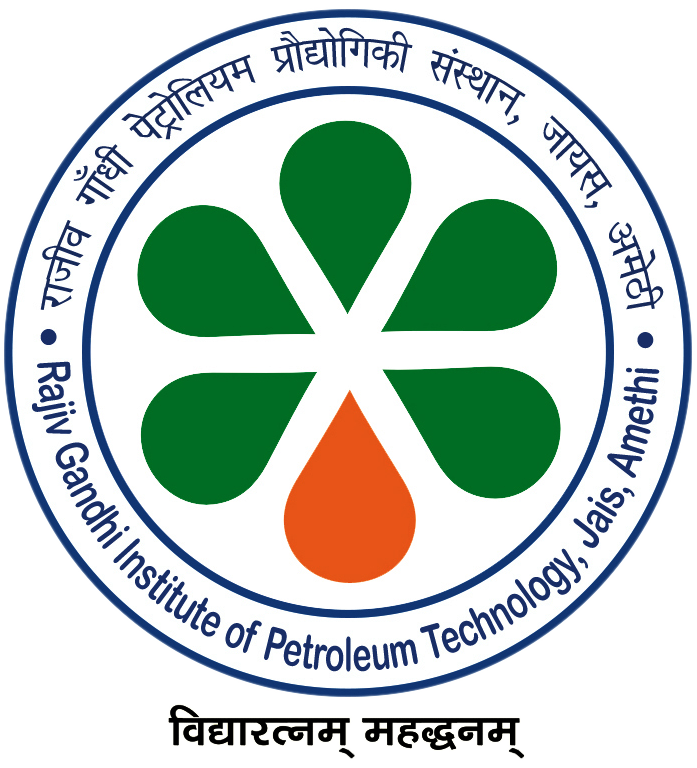 Rajiv Gandhi Institute of
Petroleum Technology
---
Organized by:
Department of Management Studies

Last Date of Registration
05th December 2023
Deadline for Abstract submission
30th October 2023
Full-paper submission
30th November 2023
About the Institute
The Ministry of Petroleum and Natural Gas (MoPNG), Government of India, set up the Rajiv Gandhi Institute of Petroleum Technology at Jais, Amethi, Uttar Pradesh, by an Act of the Parliament. The institute has accorded the status of an Institution of National Importance along with the lines of the Indian Institutes of Technology (IITs). The institute is empowered to award degrees in its own right and is co-promoted as an energy domain specific institute by six leading oil public sector units (Oil and Natural Gas Corporation Limited, Indian Oil Corporation Limited, Oil India Limited, Gail (India) Limited, Bharat Petroleum Corporation Limited and Hindustan Petroleum Corporation Limited) in association with the Oil Industry Development Board. The institute is associated with the leading International Universities/Institutions specializing in the domain of Petroleum Technology and Energy Sector.
The prime objective of the institute is to provide excellent education, training, and research to roll out efficient human resources, and to meet the growing requirements of the Petroleum and Energy industry. The institute is offering a number of Bachelor's and Master's Degree Programmes, Postgraduate Diploma Courses and Doctoral Programmes in Science, Engineering, Mathematics and Management.
Website
About Management Studies
Rajiv Gandhi Institute of Petroleum Technology was conceived through an act of Parliament to satisfy the growing demand of proficient workforce in the Petroleum & Energy sector. The focus at RGIPT is to develop human resource that hits the ground running.
What makes our MBA unique is the active participation of the leading Oil Companies in academic activities. Their constant guidance and knowledge sharing results in an enriching learning experience for the students of the Department of Management Studies.
The student-faculty ratio ensures that every student receives personal attention by enabling one-to-one interaction as well. The relationship is less like that of a student and a professor and more like a working group where everybody learns & grows together.
Together we endeavor to find out more about the various functional areas of management and the industry while striving for solutions to issues confronting the sector.
Website
About the Seminar
Climate change has become the most critical challenge before mankind. It has become imperative that we change our energy mix to ensure reduced carbon emission and promoting sustainable development. India is the world's fourth biggest emitter of carbon dioxide after China, the US and the EU. However, the per capita carbon emission in India is still very low. Nonetheless, keeping in mind the need to take urgent action for preservation of the environment, the Indian Government has committed to Net Zero by 2070.
Net zero and energy transition are two critical components of achieving sustainable development. Net zero refers to the balance between the amount of greenhouse gas emissions produced and the amount removed from the atmosphere, which is achieved by reducing emissions and/or increasing carbon removal. Energy transition, on the other hand, refers to the shift away from fossil fuels and towards renewable energy sources.
The goal of achieving net zero emissions is essential to mitigate the impact of climate change and limit global warming to 1.5°C above pre-industrial levels, as outlined in the Paris Agreement. To achieve this goal, countries, businesses, and individuals must take action to reduce emissions through various measures, such as transitioning to renewable energy sources, improving energy efficiency, implementing carbon capture and storage, and shifting to low-emission transportation.
The energy transition is an essential component of achieving net zero emissions. The world is heavily reliant on fossil fuels for energy production, which accounts for a significant portion of greenhouse gas emissions. Shifting to renewable energy sources such as wind, solar, hydro, and geothermal power can significantly reduce emissions while promoting sustainable development.
In addition to reducing emissions and promoting sustainable development, net zero and energy transition can also lead to economic benefits. The transition to renewable energy sources can create jobs and promote economic growth while reducing energy costs and improving energy security.
Overall, achieving net zero emissions and transitioning to renewable energy sources is essential for promoting sustainable development, mitigating the impacts of climate change, and creating a more prosperous and sustainable future for all.
The aim of this Conference is to highlight the issues related to achievement of Net Zero by 2070 and identifying ways to ensure smoother energy transition.
---
Sub Themes/ Tracks
The various themes for the two day conference are as follows:
---
Who Should Attend?
The event can be attended by –
Academicians & researchers
Scientists
Graduate and post-graduate students
Representatives of non-profit organizations, research institutions, and government agencies
Business organizations, particularly from the energy sector
Entrepreneurs
Why Should you Attend?
Here are just a few of the reasons to join the International Conference on Net Zero & Energy Transition for Sustainable Development:
Uncover trends, learn unique perspectives, and engage in group discussions.
Present your research, receive feedback from your peers, and get published in prestigious academic journals.
Take the next step in your academic career by identifying new research opportunities and partners.
Join the network of academics and help define the future of the field.
Publication
The selected papers will be published in international journals(s) (Scopus index/peer-reviewed) or an edited volume published from an international publisher.
Editorial process for publication journal(s) will be initiated within one week of receipt of the paper and acceptance for presentation in the Seminar.
Submission Guidelines
Abstract- 300 words maximum, Keywords: Maximum 6 keywords, Manuscript: 6000-8000 words
Paper format: Introduction, Review of Literature, Theoretical Framework, Objectives and Methodology, Results and Discussion, Conclusion and Policy Implications, Limitations and Future Research Directions ​
Title: - (Times New Roman; 14 Font, Bold)
Author, Co-author: - (Times New Roman; 12 Font, Bold)
Affiliations: - (Times New Roman; 11 Font, Bold, Italic)
All authors email id
Abstract: - (Times New Roman; 12 Font)
Maximum 500 words
Abstract may be submitted below email id for oral presentation and poster display selections.
Abstract Format, PPT Format, Speaker biodata, Poster Paper send mail to below email id will acknowledge you.
Email Id for Submission of Paper: nzetsd@rgipt.ac.in
Awards and Certification
The papers accepted and presented during the conference will receive a certification of participation. All full papers will be evaluated for originality, research rigour, contribution to the theory, and practical implications. After the presentation, selected high-quality papers will be awarded Best Paper with a cash prize.
Best Paper Award for each track
Opportunities to Publish in Edited Book (s) with ISBN NO.
Opportunities to interact with social entrepreneurship Ecosystem enablers
Registration
All the delegates should register for the conference online in the proposed format provided by filling out this Google form. Please note that there is no restriction on the number of co-authors.
All such authors and co-author(s) must register by paying the fees if they want to get the conference certificate. At least one person among the author or co-author has to be present for presenting the paper. Only those submitting the full paper can attend the conference and present their paper. Registration is mandatory before the submission of a final research paper. The registration fees details are as follows: All the delegates should register for the conference online in the
| Abstract Submission | 30th October 2023 |
| --- | --- |
| Acceptance Notification | 07th November 2023 |
| Full-paper Submission | 30th November 2023 |
| Last date of registration | 05th December 2023 |
---
---
Delegates
Categories
30 October 2023
30 October 2023
Indians
Students/ Research Scholars
Rs. 1,500/-
Rs. 2,000/-
Academicians
Rs. 2,500/-
Rs. 3,000/-
Industry Professionals
Rs. 4,500/-
Rs. 5,000/-
Foreigners Online presentations are allowed)
Students/ Research Scholars
$50
$60
Academicians
$100
$120
Industry Professionals
$250
$300